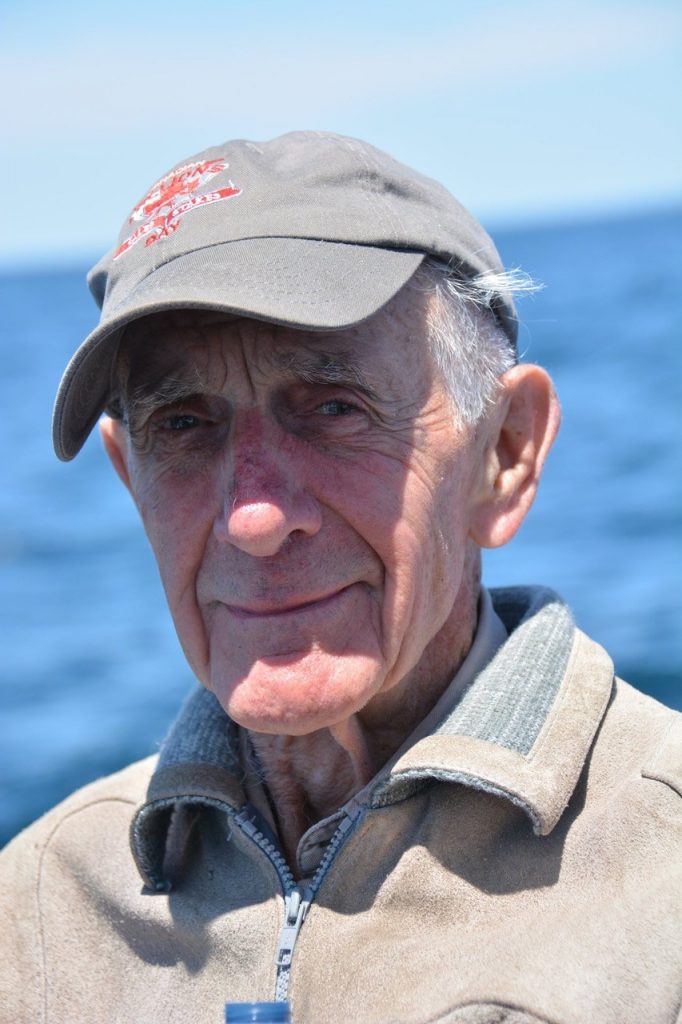 The Arthur Amos Marine Heritage Award
This award has been established to recognize the outstanding contributions made by Arthur Amos over the course of five decades of pioneering work on marine archaeological sites in Ontario and beyond.
Arthur was a founding member of the Ontario Marine Heritage Committee and was active in research and advocacy for the protection and preservation of Great Lakes marine history from 1968 until shortly before his death in February, 2020.
Purpose:
The award purpose is to support and reward the initiation or continuation of a significant project that advances our knowledge/understanding of Ontario's maritime heritage through licensed archaeological fieldwork, or for exceptional work involving archival research or publication.
Award Amount:
The award consists of a $500 grant. Should sufficient funds exist in the Amos Award account, this amount can be increased to a maximum of $1000.
Eligibility and Timing:
The award is open to all members of the Ontario Marine Heritage Committee. It shall be awarded annually if a suitable candidate has been selected, and, if there are sufficient funds available.
Criteria and Selection Process:
To be considered for the award, the applicant must demonstrate that the work will add significantly to the body of knowledge of Ontario's maritime history. This should include a statement of support from someone with specific knowledge of the subject matter. Both new projects and an additional season of work on a multi-year project will be considered (a maximum of two awards for any project). Applications will be assessed, in part, as to their compatibility with the research tradition personified by the work of Arthur Amos. An application form (Click here: Arthur Amos Marine Heritage Award Application) must be submitted to the OMHC Executive Committee no later than March 31st of the year of the subject project. Applications will be reviewed by the Amos Award Marine Heritage Committee of the OMHC and decisions made, based on the content of the application, no later than April 30.
Donating to the Amos Award Fund
To financially support the Arthur Amos Award, the OMHC is requesting donations. You can help to honour Art and his legacy of research and active support for preserving Ontario's marine heritage by contributing to the Amos Award Fund. Cheques (made out to Ontario marine Heritage Committee) can be mailed to:
Ontario Marine Heritage Committee
Amos Award Fund
c/o Jeff Buckingham
157 Holditch Street, Bracebridge, ON, P1L 1E9
Or On-Line at: https://ontario-marine-heritage-committee.square.site/
The Arthur Amos Marine Heritage Award Committee would like to recognize the generous contributions from the following individuals:
Allison Hooper
Barbara McConnell
Bill Gowland
Burke Penny
Cedric Sabourin
Christian Schroeder
Dan Lindsay
David Gilchrist
Dianne Cormier
Douglas Todd
Duncan Curd
Durrell Martin
Dylan Morningstar
Eileen Fontaine
Jeff Buckingham
Jim Garrington
Jim Lockard
Ken Cassavoy
Kimberley Monk
Leslie Piasecki
Lloyd Flemming
Mike McAllister
Paul Riley
Pennie Jevnikar
Rich Moccia
Rob Williams
Scarlett Janusas
Scott Cameron
Sharon Amos
Stan McClellan
William Fox
Donors like these are vital to the achievement of our mission and their support will advance the knowledge of Ontario's Marine History.
Thank you for your support!